2013 Lecture Series
The CRAFT Research Center, Indiana University
& The Stone Age Institute
Present their 2013 Craftsmanship Lecture
"What brewers have taught me about early tool makers":
a talk and beer tasting with
Doug Dayhoff,
Upland Brewing Co. President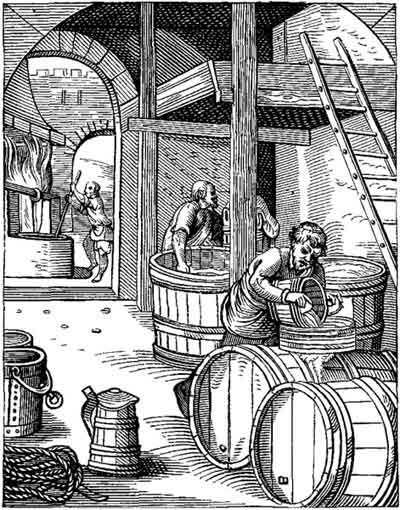 "The Brewer," designed and engraved in the 16th century by J. Amman. Courtesy of Wikipedia.
Doug Dayhoff will talk about some of the analogies between the beer making process and early tool-making. He will also discuss the major components that are involved in making beers.
Wednesday, October 16th, 2013 at 7:00 pm
University Club, President's Room
Indiana Memorial Union
Indiana University, Bloomington
Reception following the talk
This event is free, and all interested are welcome.
Doug Dayhoff is the president of the Upland Brewing Company and chairman of Kline Cabinetmakers. He has worked with several successful entrepreneurial teams in high growth businesses, raising over $35 million in venture capital and completing transactions totaling more than $150 million. He is also a director of the Sycamore Land Trust and Bloomington Parks Foundation and serves as president of IU's Hutton Honors College Alumni Board.
Doug graduated with a degree in philosophy from Indiana University and an MBA from the Tuck School at Dartmouth College. He and his wife have two sons and reside on an old farm outside of Bloomington, Indiana.
Parking at some IU parking lots is free during the symposium.
Click here for more information.
If you are interested in knowing about upcoming events: