STONE AGE INSTITUTE SCIENTISTS ROCK FOR SCIENCE EDUCATION!
Some of the SAI Band Members: (from left to right) Sage Benado, Seymour Duncan, Kathy Schick, Nicholas Toth, and Tom Schoenemann.
As one part of our science education initiative, we are producing songs about our evolutionary origins. The music and lyrics for all the songs were written by co-Directors Nicholas Toth and Kathy Schick. Each of the songs highlights a different aspect of the evolutionary pre-history and history that has culminated in the world as we know it.
The songs are performed by The Stone Age Institute band, which consists of a partnership of Institute scientists and world-class professional musicians who are committed to using music in an educational (and hopefully fun!) way. All of the professional musicians in the band are also on our Institute advisory board. The core members of the Stone Age Institute band are Krista Detor (vocals), Carrie Newcomer (vocals), Seymour Duncan (lead guitar), Sage Benado (guitar), Nicholas Toth (guitar), Henry Corning (bass), Tom Schoenemann (drums), and Kathy Schick (percussions).
A handaxe and a Seymour Duncan guitar pick symbolize the inspirations of the SAI band. Stone Age Institute Band logo © 2011, STONE AGE INSTITUTE®. All rights reserved.
In addition to our core band members, we are also honored to have long-time friend and Stone Age Institute advisory board member Kenny Aronoff join Tom on drums and percussion on "Homo erectus." Kenny, considered by many to be one of the greatest drummers in the history of rock, was the drummer with John Mellencamp for 17 years on such songs as "Hurts So Good", "Small Town," "Jack and Diane", "Pink House", "Authority Song", "Crumblin' Down", "Rain on the Scarecrow", and "Paper in Fire". More recently he has recorded and toured with John Fogerty, Joe Cocker, Melissa Etheridge, Bob Dylan, B.B. King, Smashing Pumpkins, etc. He was the house drummer for all of the musical acts at the 2009 Obama Presidential Inauguration concert, as well as for the Grammys and the Kennedy Center Honors.
All the songs have been recorded at Echo Park Studio in Bloomington, Indiana (co-owned by long-time John Mellencamp guitarist Mike Wanchik), with Kevin Loyal as engineer. One of Echo Park Studio's claim to fame is that the Fray recorded their multi-platinum, Grammy-nominated album, "How to Save a Life," at Echo Park Studio in 2006.
THE STONE AGE INSTITUTE BAND recording sessions
To date, the Stone Age Institute band has recorded four songs with evolutionary themes as a part of its science education project. These songs can be accessed on our websites and downloaded.
Henry Corning on bass guitar and Nick Toth on electric guitar.
Vocalist Carrie Newcomer has the voice that defines the songs.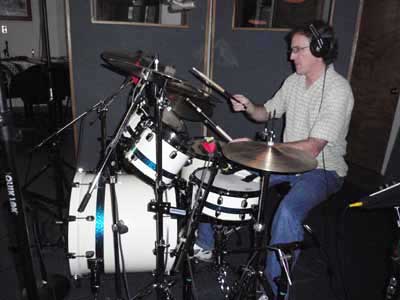 Tom Schoenemann on drums.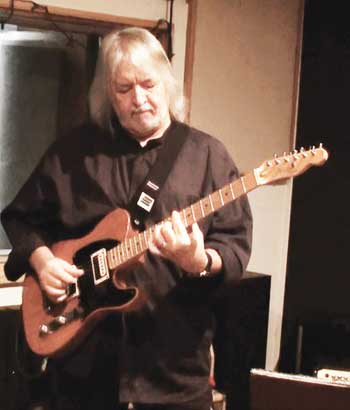 Seymour Duncan plays lead guitar.
Kenny Aronoff on drums.
Sage Benado plays electric guitar.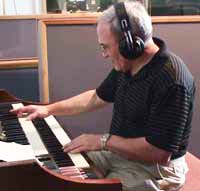 Augie Pacetti on keyboard.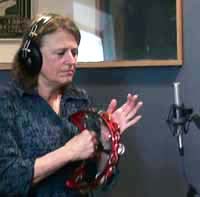 Kathy Schick playing the tambourine.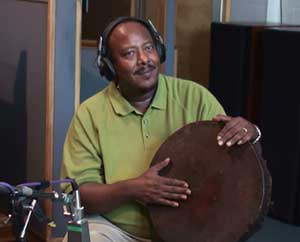 Sileshi Semaw on Ethiopian drum.